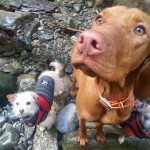 Energetic dogs need adventurous walks and Muttley Crew understands that work and life don't always allow you the time needed to take your pup on those epic adventures. We are here to ensure that your dog gets all of the exercise, socialization and stimulation they need in the care of professional walkers.
Our off leash group adventures take place on the North Shore mountains and run between one and a half to two hours. We make sure that your dog is returned happy, tuckered and toweled with a report card, so you know how their day on the trails went. Let us treat your dog like the four legged rock stars that they are!
Follow us on Facebook and see the dogs in action.
Want to join us on our walks? Contact us to schedule a consultation.
ADVENTURE WALK RATES
Drop-in rate                            $31 /hike
Rate with a Pre-paid Monthly Package
1 Hike per Week                      $28 /hike
2 – 3 Hikes per Week              $27 /hike
4 – 5 Hikes per Week               $26 /hike
At this time Muttley Crew offers pick up and drop off in North Vancouver and the following neighbourhoods in East Vancouver – Mount Pleasant, Olympic Village, Strathcona, Railtown, Gastown, Grandview-Woodland, and Hastings-Sunrise. Call or e.mail with service area inquiries.
Adventure Hikes run Monday through Friday excluding holidays.